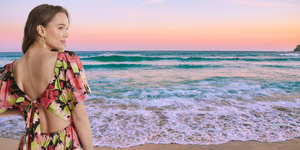 It's All About the Details
SUMMER IS HERE!
As we welcome the season of sun dresses, breezy tops, and romantic details, its time to start thinking about how to stand out - and we all know the details make the difference. One such detail that has taken the fashion world by storm is the timeless and versatile ruffle. At Jami's, we're all about celebrating the beauty of femininity and sophistication, and this summer, we're encouraging you to embrace the romantic allure of ruffles.
Many Ask
Why Ruffles?
Ruffles have been a fashion staple for centuries, from the extravagant gowns of the Victorian era to the flirty dresses of the roaring twenties, and right into our modern wardrobes. Ruffles have a unique ability to combine a soft, romantic touch with an impactful style statement. They add volume, dimension, and movement to a piece, making it inherently more dynamic and eye-catching.
A Touch of
Romance
Ruffles and romance go hand in hand. There's something about the flutter of a ruffle that captures the essence of a breezy summer romance. Whether it's a ruffled collar on a simple white blouse, a tiered ruffle dress for a beachside lunch, or a ruffle-trimmed skirt for a casual stroll downtown, these feminine details can add a lovely touch of whimsy and charm to your summer look.
Incorporating
Ruffles Into Your Wardrobe
Pair large text with an image to tell a story, explain a detail about your product, or describe a new promotion.
Find Your Perfect Ruffle at Jami's
At Jami's, we believe that fashion should be an expression of one's personality. And what better way to express your femininity and style than with the soft, romantic details of ruffles? Our curated summer collection includes a wide range of clothing and accessories featuring this beautiful detail. Whether you're dressing up for an event or simply looking for everyday chic, we've got the perfect ruffled piece for you.
Remember, ruffles aren't just about being girly; they're about embracing the romantic, whimsical side of summer fashion. So why not take a chance and add a ruffled piece to your summer wardrobe? You might just fall in love with the romance and charm of this timeless detail. Step into Jami's today and let us help you find your perfect summer look.
GET IN TOUCH
We love when our customers reach out! Please do not hesitate to share your thoughts on this post, or if you would like to set up a personal shopping appointment simply fill out the form and we'll be in touch!
VISIT THE STORE Today
Promenade At Bonita Bay
S Bay Dr &, Bonita Bay Blvd
Bonita Springs, FL
HOURS:
Monday-Saturday 10-8
Sundays 12-5